Interiors, the leading luxury furniture destination in the UAE, showcases their most-loved seasonal pieces just in time for the holidays. As home gathering are on the rise during the most wonderful time of the year, Interiors presents an array of unique, elegant, and eye-catching pieces that will elevate any space through adding texture and design to reflect the ambience of the winter months, and which also makes for unique gifting ideas. The collection features distinctive asymmetric and geometric shapes along with neutral colors that amplify all forms of designs.
Interior's top picks from Uttermost accessories, a prestigious fashion-forward brand that offers quality designs, provides a selection of cool and sleek items to elevate any home during the holiday period.
Abella Ceramic Wall Décor - Uttermost
This unique high-style design trio of ceramic flowers features detailed veining, glazed in a fresh white tone. It's the perfect item to be hung on a wall or used as tabletop accessory to enrich the space with luxurious ceramic art, adding in dimension from a 3D perspective demonstrating vivid beauty.
Golden Raindrops Hand-Painted Canvas - Uttermost
Sophisticated glamour exudes from this hand painted abstract on canvas. On trend shades of blush and army green are matched with vivid gold leaf accents. The canvas is stretched and attached to wooden stretching bars then surrounded by a heavily distressed, mottled gold leaf gallery frame. This piece may be hung horizontal or vertical.
Avarie Metal Wall Art – Uttermost
This contemporary set of three metal wall art is an exquisite piece featuring three-dimensional organically curved shapes with radiating metal spokes, finished in a plated gold with mirrored center accents. The wall art is made from premium quality materials and is the perfect addition to spruce up a blank wall, adding texture and an element of dimension and facet.
Aries Mirror - Uttermost
Perfect for an entryway or a stunning over the sofa display, this transitional mirror features a uniquely shaped stainless steel frame with gracefully curved points finished in classic brushed gold and can be hung horizontal or vertical.
Stacked Decoration Box - Uttermost
This multi-colored decorative stack is the ideal piece for an aesthetic storage compartment. The combination of black, gold, and beige tones come together to create an iconic piece that adds color and texture into any space, and can fit in with a variety of uniquely decorated areas due to its neutral color and simple design.
Balkan Tray - Uttermost
The Balkan tray is a hand forged iron frame finished in lightly antiqued gold leaf accented with suspended, clear acrylic, solid square bars, and a beveled mirror interior. The composition of the two materials, iron and acrylic, is a unique combination and augments a classic chic yet casual design.
Riad Candleholder - Uttermost
Taking cues from Moroccan style, this candleholder is finished in dark bronze with gold rub-through details and a textured glass hurricane that pairs perfectly with the smooth geometric shape of the curved bars. It comes with a white 3"x 3" candle.
Kiernan Candleholder - Uttermost
This modern candleholder features a distinctive intertwined ring design and is finished in polished nickel. This piece showcases a very eye-catching, intricate design, featuring three 4"x 3" white candles.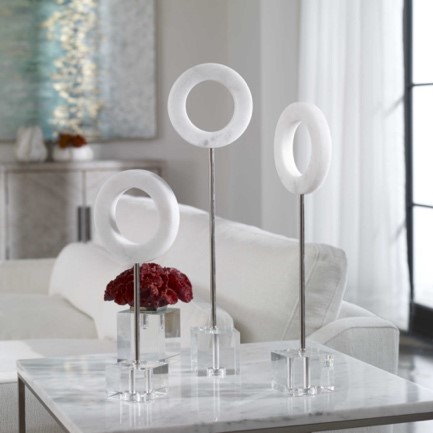 Coin Toss- Uttermost Accessories
This contemporary trio features of three solid white marble rings supported by polished chrome rods and an elegant crystal base. It is the ideal centerpiece item for dining tables and coffee tables, where the marble design can add a simple yet elegant motif concept. The coin toss piece is available in a variety of sizes.
Alize Black - Uttermost Accessories
The Alize black decorative piece consists of elegant black diamonds made of granulated marble standing atop crystal bases. This matte black structure is truly a stunning accessory to elevate any room, and pairs with all types of textures and hues due to its neutral black shade.
Storm Bottles- Uttermost Accessories
Crafted from art glass, these bottles showcase a unique, heavy texture and are finished in neutral shades of charcoal, taupe and silver. Each bottle is accented by a silver leaf finished with an iron top, which blends in perfectly in a light-toned room. The shimmer element lightly embellished on the bottle adds a touch of elegance and jazzes up the neutrality of the bottles.
Amiya Bookends - Uttermost Accessories
The Amiya set is the perfect set of two bookends, featuring thick, gray marble with raw unfinished edges set atop clear crystal cube bases. The stunning marble design is an ultra-chic look and brings out the neutral tones of any bookshelf, providing a sophisticated and luxurious feel.